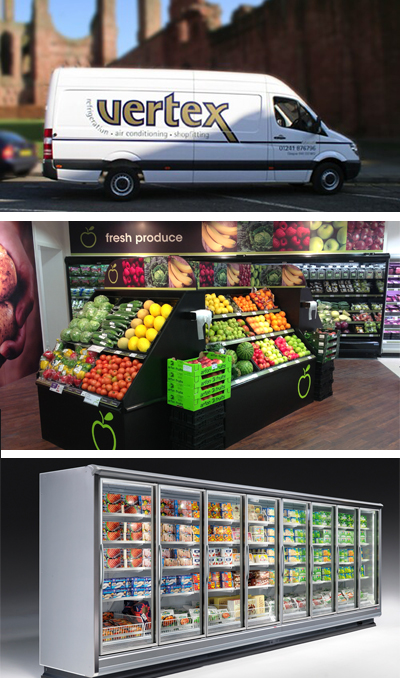 VERTEX REFRIGERATION, AIR CONDITIONING AND SHOPFITTING was established in March 1996 by the present M.D, Mr Alex Dalglish.
The Vertex team have continued to develop the business which is now recognised as the leading refrigeration & shopfitting suppliers in Scotland.
Our strength is our ability to provide a complete turnkey "package" to our clients, we understand the need for out of hours working and versatility to be able to adapt to any bespoke requirements our customers may have"
Vertex have a well structured management team which means that their company is strong in all the 3 disciplines: Shopfitting, Air Conditioning and Refrigeration. At Vertex we will provide a dedicated project manager to liaise with you. Vertex has a very proud record of efficient working, meeting deadlines, attention to all details which has created repeat business from many of our clients.
Vertex are committed to the future & embrace any advances in energy efficient technology that will improve our service in all departments and end user
With the vast experience and our prestigious portfolio of work to date, coupled with good business psychology good communication and teamwork throughout the company and an overall desire to deliver a quality job every time, ensures that Vertex will continue to be the market leader for years to come